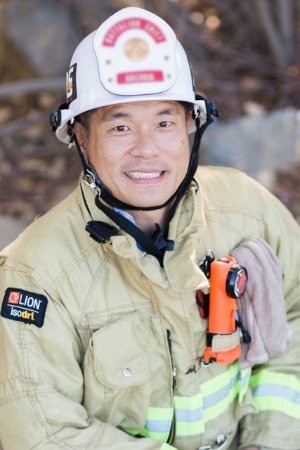 Attorney Chen Suen is not just an attorney, but also a firefighter for the city of Arcadia. Being one of the first Asian-American firefighters to join Arcadia Fire Department, rising now acting as the Deputy Fire Chief, Mr. Suen knows the discipline needed to overcome challenging situations.
Biography
The newest addition to Chiao & Wu, LLP; Attorney Chen Suen brings a fresher aspect in what law is. For the past 18 years, Mr. Suen was a firefighter rising to the rank of Deputy Fire Chief with a local municipality in charge of the Department's operation. Not only was Mr. Suen a firefighter, but also taught future firefighters courses in community colleges located around the greater Los Angeles area.
Juggling through all of these jobs, Mr. Suen decided to enroll in evening courses in Loyola Law School graduating with top grades, while also externing for the Center for Conflict Resolution in Loyola and externing for the Los Angeles County Office of the Independent Monitor Probation Department. 
As a lawyer, Mr. Suen specializes in general litigation, real estate, and business transactions, but is also interested in the areas of employment/labor, personal injury, and worker's compensation for the future. 
On his days off, Mr. Suen enjoys spending his time with his wife and two children traveling around the world whenever possible. 
Education
Loyola Law School Los Angeles

Juris Doctorate (J.D.), 2017

University of California, Irvine

Bachelor of Arts (B.A.) Sociology, 2002

Santa Ana College

Associates of Science (A.S.) Fire Technology, 2002
Experience
Chiao & Wu, LLP

Associate Attorney, 2021 – Current

Glendale Community College

Fire Academy Instructor, 2020 – Current

Eastern Oregon University

Fire Administration and Fire Prevention Adjunct Instructor, 2020 – Current

Rio Hondo College

Fire Academy Instructor, 2019 – Current

El Camino College

Part-Time Instructor, 2018 – Current

Arcadia Fire Department

Deputy Fire Chief, 2003 – Current
Languages Spoken
Mandarin
Taiwanese
Basic Spanish